Allow Our Family to Help Yours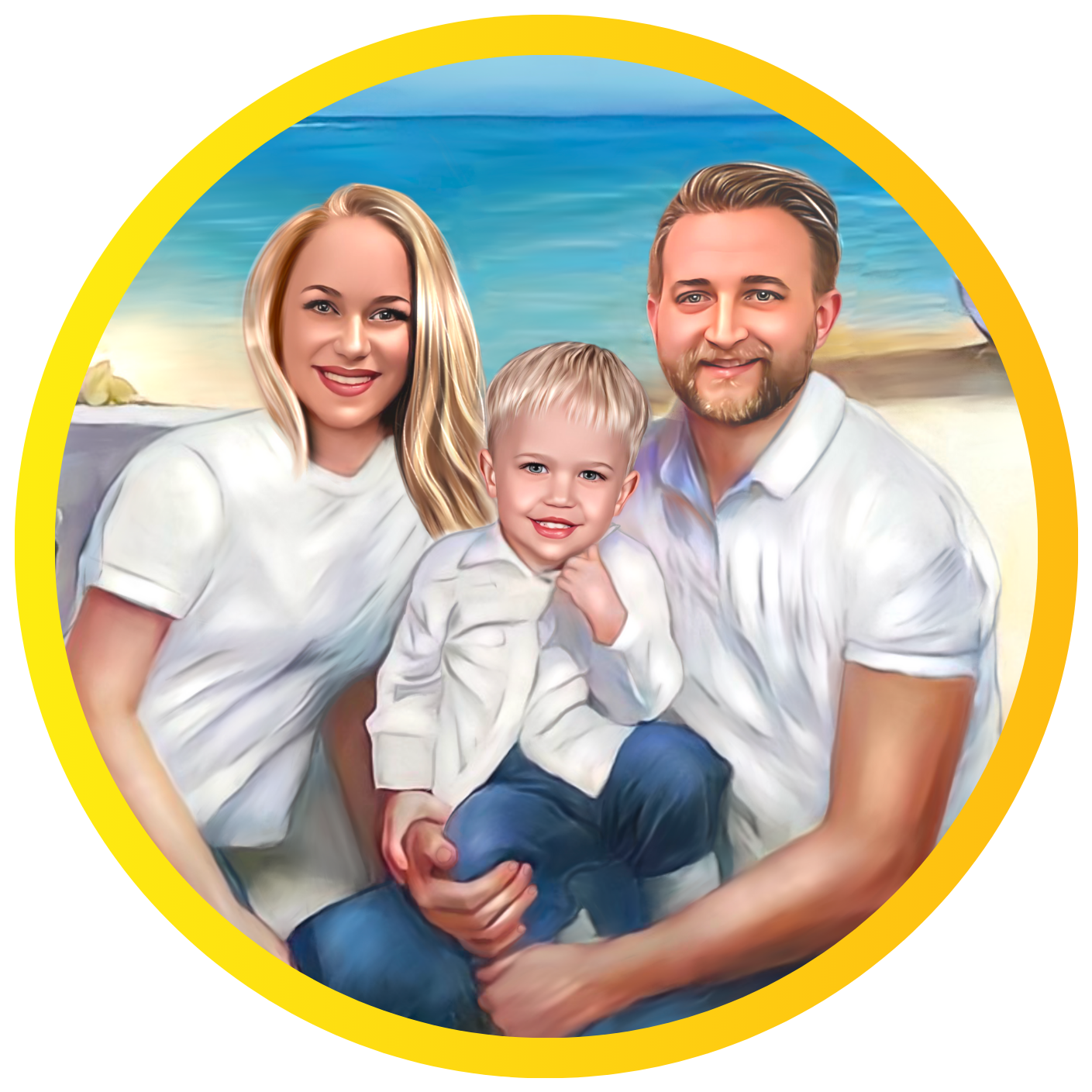 5 Reasons Why Solar is the
Wisest Investment
Best Decision
For You.
We understand how important your time is and believe that learning about solar should be on YOUR TIME not ours. There is NO need for one of solar professionals to enter your home. With our digital proposal software, we can provide you with a 100% transparent and accurate pricing and all the information you need to make the best and most informed decision for your family anywhere, anytime!
Our transparent and friendly solar professionals are happy to help you learn more about solar and whether its a good fit for your family or business. They always provide you with all the accurate information and pricing that you need to make the best decision for your family with ZERO pressure.
In fact, we actually encourage you to WAIT to buy solar if you just bought your home. There is NO WAY that any solar professional can properly size your system for your needs until you have experienced a hot summer month in your new home.
We pride ourselves on offering the best quality solar technology and installation in the market. All solar deals come with an industry-leading fully-comprehensive 30-year roof and solar panel warranty! This covers labor, materials and everything needed to keep your panels and roof protected for 30 whole years!
Discover why switching to solar energy is the best decision you can make for your
Family.
Business.
Financial independence.
Career.
let us help You make certain that you always have enough energy, save money, &
gain true energy independence.
We Help You Make the Best Decision About Solar
WITHOUT ENTERING YOUR HOME.
WITHOUT WASTING YOUR TIME.
WITHOUT PRESSURE.
WITHOUT FALSE PROMISES.
By following the three-step solar quote process, we can get all the details we need to give you the most accurate quote, the first time.
During our quick proposal, we can show you different options based on your financial and energy goals. Many of our customers tell us that their "quote" from other companies change drastically or they are left with solar panels that don't produce enough energy each month.
Want to Make Money While Making an

Impact?
Consider a Career in

Solar.
Join the Best Team
At Best Decision Solar, you are apart of our team and we will help guide and support you as well as supply you with everything you need to be successful at selling solar!
Make Money From Home or the Beach!
Our digital platform allows you to do proposals online and make the most of your customer's time as well as your own. As long as you have a computer, access to reliable internet, and a cell phone-you're in business!
No Need to Knock on Doors!
This is something most of our solar professionals feel insecure about doing. Don't worry! With our digital proposal platform, you can sell solar to anyone, at anytime, from anywhere! No need to enter anyone's home to be successful at selling solar!
Start a Turn-Key Business
Everything you need ito become a solar dealer is supplied to you! It is up to you to make the most of it!
Don't Work for a Dealer, Become One!
When you join our team, you don't work for us, you work for yourself! It's time to make the best decision by taking back your time and freedom!
No Previous Experience in Solar is Necessary
You don't have to have experience in sales or the solar industry to be successful! By joining our team, we will ensure you have all the guidance and resources you need to thrive as a solar dealer!
Work for a Company You Can Be Proud Of!
We pride ourselves on offering the best price, the best quality, the best experience and the best warranty on the. market! You will always be able to be proud of who you work for.
Our distributor, Powur Energy, is the world's first virtual solar energy company. Our platform allows you to work anywhere you want, whenever you want, and with all of the support you need to fulfill your projects with industry-leading quality and speed. Click the button for more information.

To keep our prices the lowest on the market, we don't spend money on marketing or advertising like Door Knockers and Cold Callers.
Instead, we Prefer to Get Testimonies and Referrals from Real People! We Find that this method leads to longer lasting relationships.
This is why we offer the BEST referral bonus in the industry!
By becoming an ambassador, you can earn $1,000 every single time you Send Someone Our Way!
It's FREE and easy to join. Just click the button below to sign up!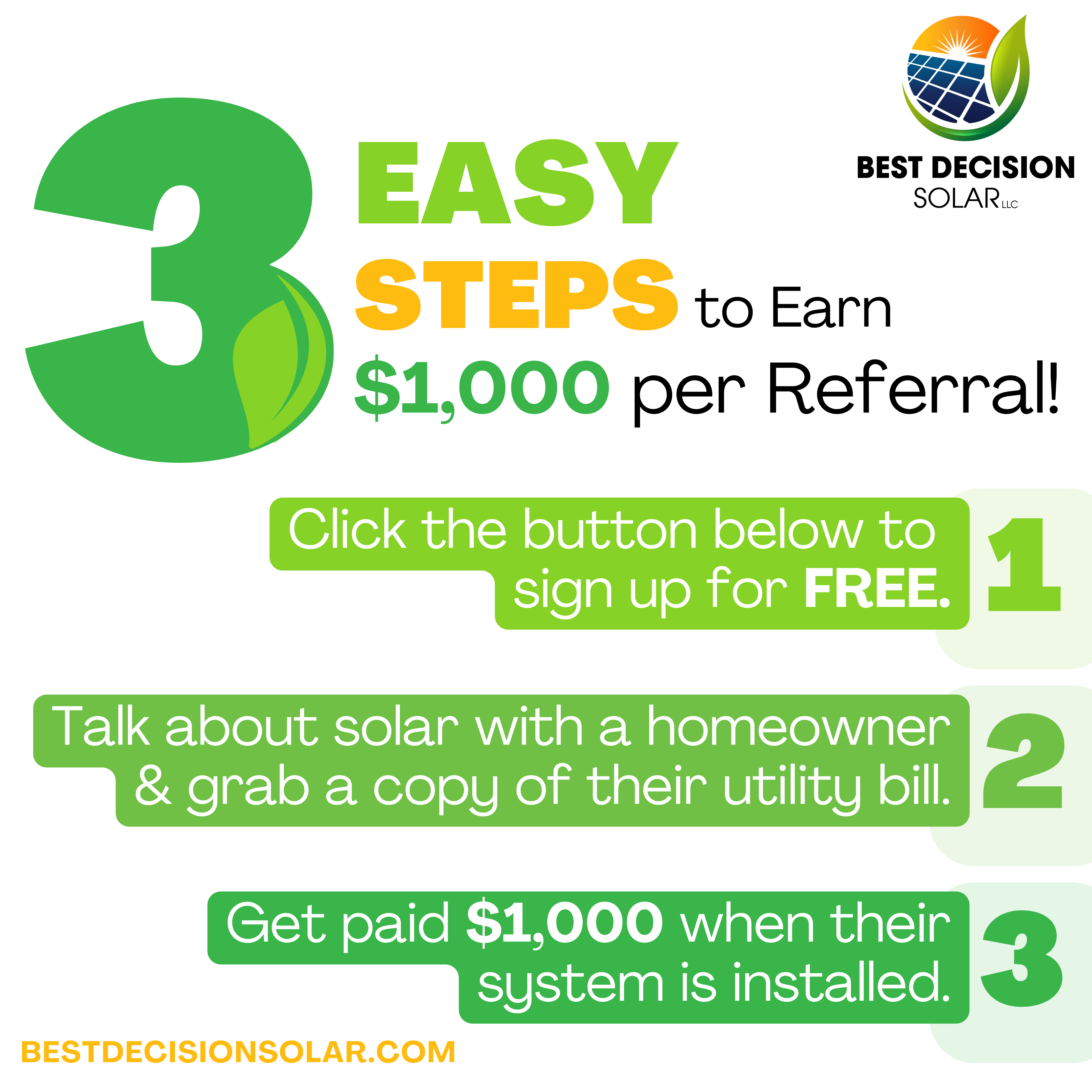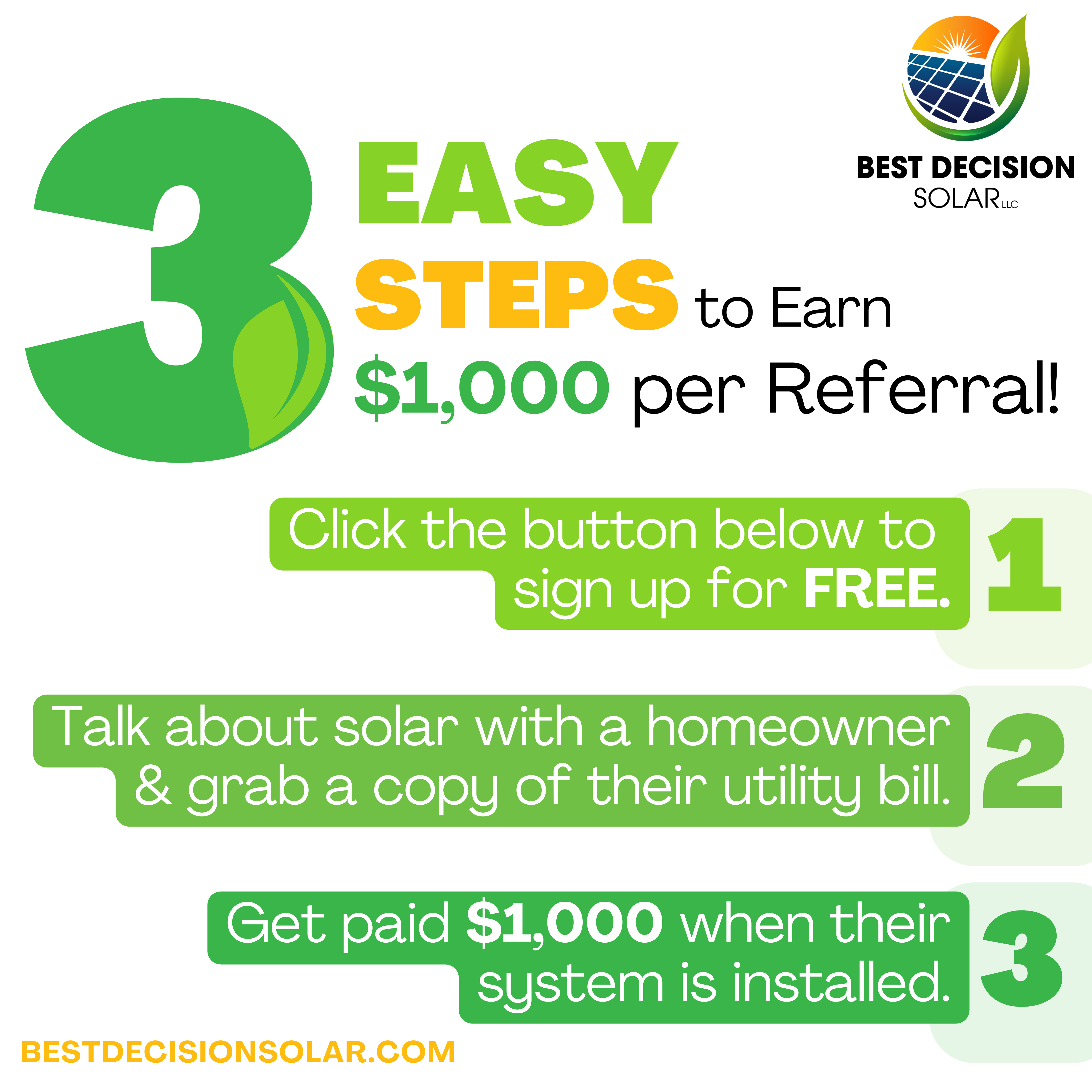 Simply click below to get started.
JUST SO YOU KNOW…
We pride ourselves on offering the best experience, the best prices, the best quality and the best warranty on the market! So rest assured that whoever you refer to us will always receive VIP treatment and see why we are called Best Decision Solar!
For Both

Customers &

Ambassadors
Click below the button above to upload the utility bill.

Your utility bill allows us to give you the most accurate quote considering the following factors:
If your utility bill shows your monthly or yearly usage, this will help us get an even better quote so please try to capture all the pages of your energy bill.
Please note, your energy company usually has limits on how additional energy we can outfit your system to output compared to your current usage. This is why we recommend people hold off on getting solar until after they have experienced 6+ months in their home, most importantly experiencing the warmest and/or coldest months your region experiences. 
Our solar company is based in Florida and there are a lot of people migrating here from all over the US.
This means that a large amount of local residents have not been in their homes very long. Unlike many other solar companies, we do not take advantage of these new residents but instead recommend that they wait to buy solar so they can make the best decision for their family based on accurate usage. Nothing is worse than investing thousands into being energy independent only to have a large utility bill on top of it. Let us help you make sure you're set up for true energy independence. 
The direction and location of your home, compared to the sun is crucial for how much energy your panels can actually absorb and output as energy for your home. 
So many companies just shoot quotes over, without considering the most crucial details like:
Pitch and Direction of Your Roof Compared to Location of the Sun
Amount of Shade/Placement of Trees
Average Optimal Hours of Sun for Your Location
Amount of Viable Space & Optimum Use of Space.